Research Report Cites 'Dramatic Change' in WAN Edge Infrastructure
In a new report on WAN edge infrastructure, research firm Gartner cites "dramatic change" in the market.
That market, Gartner said in a new Magic Quadrant report, is defined as "WAN edge products that provide network connectivity from distributed enterprise locations to access resources in private and public data centers, as well as infrastructure as a service (IaaS) and software as a service (SaaS)."
Gartner said the market is evolving from traditional Multiprotocol Label Switching (MPLS) implementations with branch routers — or "customer edge routers" — used for branch-to-datacenter connectivity to a more decentralized architecture featuring cloud workloads.
And software-defined wide-area networking (SD-WAN) is a primary factor in the cited dramatic market change.
"The market for branch office WAN edge functionality continues to rapidly shift from dedicated routing, security and WAN optimization appliances to feature-rich SD-WAN," the report says. "SD-WAN is replacing traditional branch routers with application aware path selection among multiple links, centralized orchestration and native security, as well as application performance optimization functions."
Strategic planning assumptions guiding the research report include:
By 2023, to deliver flexible, cost-effective scalable bandwidth, 30 percent of enterprise locations will have only internet WAN connectivity, compared with approximately 15 percent in 2020.
By 2024, more than 60 percent of SD-WAN customers will have implemented a secure access service edge (SASE) architecture, compared with about 35 percent in 2020.
By 2024, to enhance agility and support for cloud applications, 60 percent of enterprises will have implemented SD-WAN, compared with about 30 percent in 2020.
By 2024, 20 percent of SD-WAN centralized configuration and troubleshooting will be touchless via an artificial intelligence (AI) assistant, compared with none in 2020.
Speaking to that latter assumption about AI enhancements, Gartner said, "There is a trend to more autonomous and self-driving networks in which AI/ML technologies can be leveraged to adapt to network traffic patterns. The objective is to make networking even easier for Day 2 operations for end users, reduce operating expenditures (opex), increase speed/agility and improve uptime/performance. Although it is still early in many vendors' product development, we are seeing this functionality being incorporated into an increasing number of vendor solutions offering differentiation."
However, one future trend that the firm doesn't see as having as much impact very soon is 5G.
"5G is hyped technology that some expect to replace wired access WANs. In Gartner's view, due to limited coverage, various 5G technology options with different performance and RF propagation, and few truly unlimited data plans, 5G is still not in a position to transform WAN architectures for at least another two years. However, new mobile and Internet of Things (IoT) use cases will take advantage of 5G."
As far as the famed Magic Quadrant itself, the report's graphic shown above reveals a crowed in the "Leaders" box, populated by VMware, Fortinet, Versa Networks, Cisco, Silver Peak and Palo Alto Networks — the latter based on its acquisition of CloudGenix. In a similar report published last December, VMware and Silver Peak were the only "Leaders," as shown in this graphic: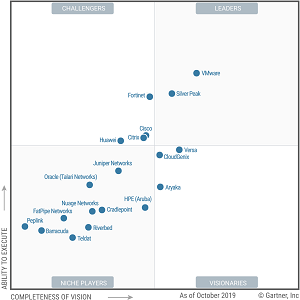 While touting several strengths of the VMware offering in the new report, such as solid products, a large SD-WAN customer base and large-scale support capabilities, the research firm cited limited native security capabilities in comparison to other vendors as a "caution."
Further addressing security, the report cited the merging of security and networking/SASE. SASE is an hot topic in the SD-WAN arena, referring to the convergence of functions like network and security point solutions into a unified, global cloud-native service.
"At one time, security and network procurements were handled separately, " Gartner said. "Increasingly, we see network and security decisions being made at the same time and more often with the same solution. This is largely driven by the move to distribute internet access to support cloud applications and change the security perimeter. This goes with the deployment of SD-WAN at the branch locations to manage the internet transport. As part of a desire to minimize branch sprawl, we expect to see more customers looking for vendors with a combined security and networking solution or as part of a broader ecosystem."
The "Magic Quadrant for WAN Edge Infrastructure" report, published last week, is available for free from multiple leading vendors mentioned in the report. The free reports can be found with a quick web search of the title and can be accessed upon providing registration information.
David Ramel is an editor and writer for Converge360.